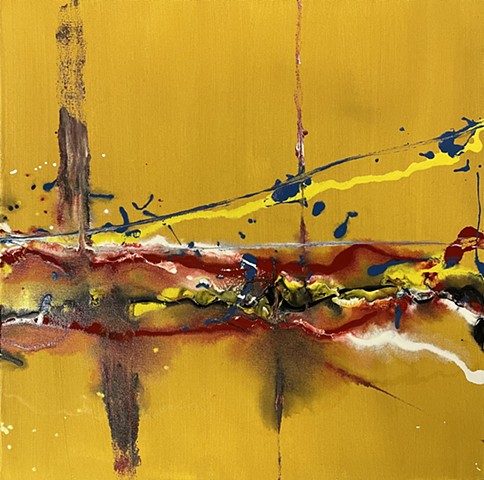 Painting for me originates with color. My work is colorful, but I think it tends to use a lot of minor chords rather than colors straight from the tube. A moodily upbeat, Miles Davis Kind of Blue feel.
Painting is always an individual interpretation, an abstraction of reality. My work varies in the degree of abstractness from completely non-objective to quite representational or figurative. David Park said that recognizable subjects in his paintings allowed him an immediate sort of vehicle with which to communicate and allowed him to move forward with color and brushwork to express what is under the surface.
I work primarily in oil with occasional cold wax or collage. My inspiration often comes from the natural beauty of seacoast New Hampshire. I often paint these subjects as they appear in my psyche rather than plein air or from photos.
Several of the paintings in the current show deal with trying to convey my lifelong gazing out at the Isles of Shoals- their distance, their constant presence, their different moods. The lighting is always different on them. Because they are seven miles offshore, in reality they take up a very small arc of the 360° horizon and an even smaller amount of vertical elevation. Very, very small when you hold out a pencil and paper at arm's length and actually sketch the size of the group of islands. But outsized in my imagination.
So I look and I paint; it is a very unfinished business.
On Instagram, follow me at pcadycreates for the latest.
Even though it is over, check out my 2021 group show. Discover Portsmouth Center


Untitled, oil and enamel on canvas, 24x24"